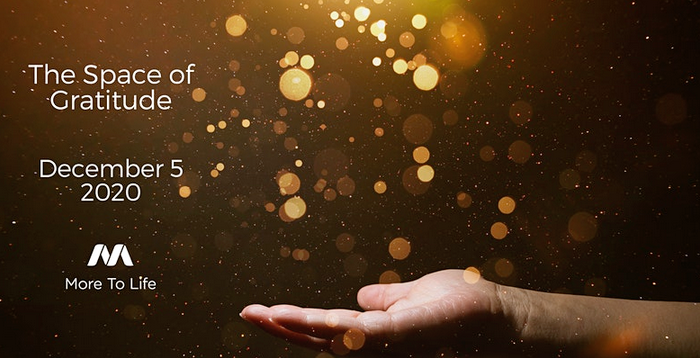 Sat December 5, 2020 | The Space of Gratitude | Online Live Webinar
Date: Saturday, December 05, 2020
Time: 2:00 – 4:30PM EST
The Space of Gratitude
Being in a 'Space of Gratitude' allows us to function at a higher level in our lives while positively impacting our physical, mental and emotional wellbeing.
This "space" is what we experience for 2.5 hours in this webinar.
More To Life is hosting a global webinar entitled The Space of Gratitude. Join us and close out 2020 together.
• For this specific workshop, we will be focusing on lifeshocks that enrich our lives and offer the opportunity for gratitude. Yes, a space of gratitude is available even in the midst of a pandemic, unrest and global reactivity.
Global Times:
Global Offering – All Time Zones Welcome
Saturday, December 5, 2020
1 PM Central/Chicago
2 PM US/Eastern/New York
7 PM UK/London
8 PM Spain
9 PM South Africa
Sunday, December 6, 2020
6 AM Australia
8 AM New Zealand
$40 USD
Zoom link will be sent via email. Course fee payment qualifies as your registration.
Questions:

[email protected]