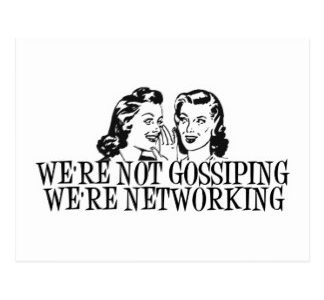 I've been struggling with the difference between gossip and collaboration. To say nothing about anyone seems miserly – withholding data that could be helpful to a joint effort or to esprit de corps. On the other hand, talking about people behind their back seems malicious. What'
s the line between the two?
The other day, I was talking to Sylvia Hebert about roles on the Launchpad team – which person in what role would benefit the training itself and the individual as well. To my way of thinking, that would be collaboration. It's helpful to the Greater Good.
I made a comment yesterday about someone that I wish I hadn't made. In hindsight, I vaguely recall an "unease" – an internal battle – Say it! Don't say it!
Delving more deeply, I could feel the push to "SAY IT" – to prove that "I know things." Mindtalk from my Higher Self said, "You don't have to underscore with more drama what's already been mentioned." Ego, "Oh, yeah? Wait till they hear this – MY take on it!!!!"
It's all very confusing, until I ask myself these 3 questions:
Does this need to be said at all.
Does it need to be said now.
Do I need to be the one to say it.
If there is a NO to any of the above questions, my stand is to say nothing – another way to curb my ego.
Gossip is rampant in our culture – via individuals, groups, and the media – and is tainted by against-ness.
What's Your stand?