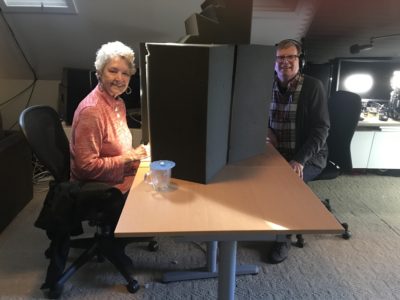 Tom Parish instigated my blog, saying, "I'll set it up, all you have to do is write." Hmmmm
Several years later, he added his voice to others, saying, "Write a book." Double Hmmmmm.
It seems that others now have the need to create projects for me – "make an MP3 out of your book" – nothing I know a scintilla about. So I turned to Tom Parish, podcast king, and asked for guidance. Would this be worth the time and effort?
Bottom line, over the holidays, we spent 7 hours recording my book, Lifeshocks – Out of the Blue. At the beginning, I was feeling tight in my stomach – trepidation – wanting to do a good job, knowing this was absolutely out of my wheelhouse.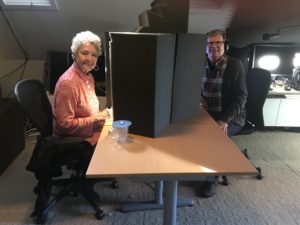 Fortunately, this is completely within Tom's wheelhouse – he even loves doing it. Go figure! He showed me all the equipment (of which there was a long table of black boxes with dials and gauges – with a life all their own. Yep, intimidating.) I sat semi-enclosed by black sound-proofing and a microphone – an industrial microphone, not like the ones I'm used to wearing in a training room.
Seven hours later, I felt excited, proud of myself, grateful to Tom, and a bit nervous that I sound like a hick. Recorded forever in my hick-voice. Ah well … a new challenge, unsought, but presented, then chosen and actualized. Great way to finish 2018.
PS He's now doing the hard part – turning it into an MP3.